Tag Archives:
summer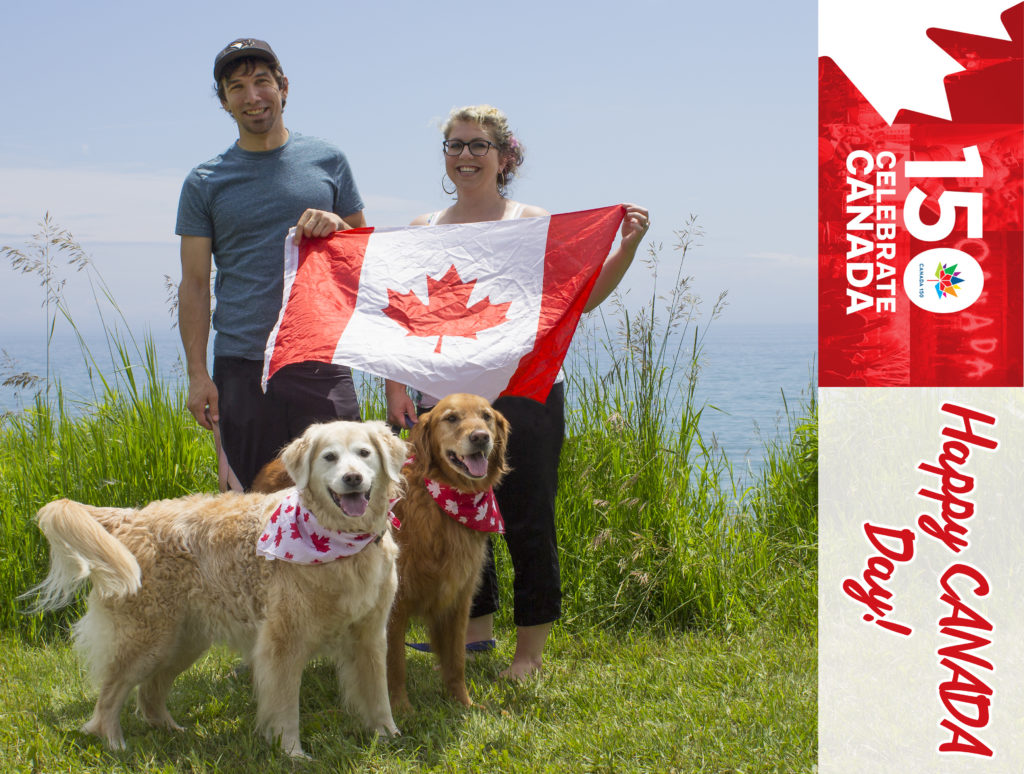 This past weekend, Canada celebrated it's 150th birthday and we couldn't let such a special occasion pass us by without joining in on the festivities! Plus, we currently have our super awesome godchildren here with us for most of the month which gave us another excuse to get out and have some fun!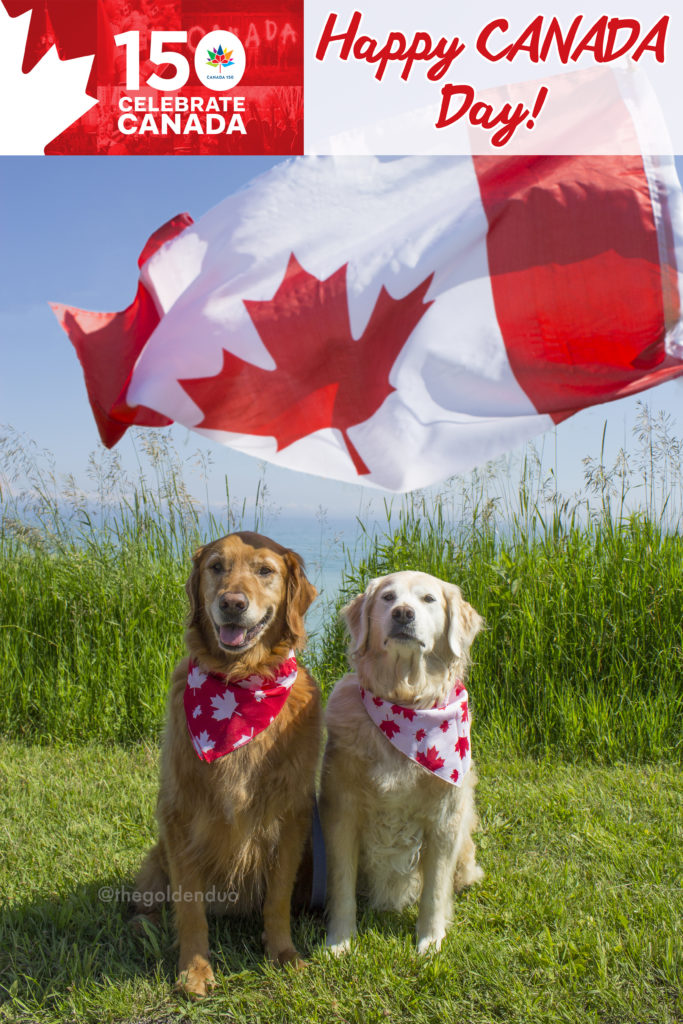 The day actually began in a panic when I noticed one of our Golden Retrievers (Murray) waiting at the front door of our house. It turns out that our back gate had popped open in the night and our other Golden was nowhere to be found. Out Katy and I ran, barefoot and in our pj's, to track down Genevieve. After a jog through the neighbourhood, we ended up at the lake where there was still no sign of her. Turns out she found a backyard BBQ to crash and made friends with some neighbours down the street from us. They had her on a leash and were trying to track down her owners wh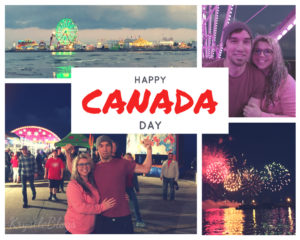 en another neighbour noticed us clearly panicked, with leash in hand. Apparently she loved everyone at the party and when she was returned to us, seemed pleased to have made so many new friends.
Shortly after we met up with some friends to take the dogs for a swim and a walk before heading downtown for ice cream and to check out the fair and festival. Unfortunately just as we made it to the pier, there was crack of thunder and a bolt of lightning followed by torrential rain. By the time we made it back to the car we were all drenched.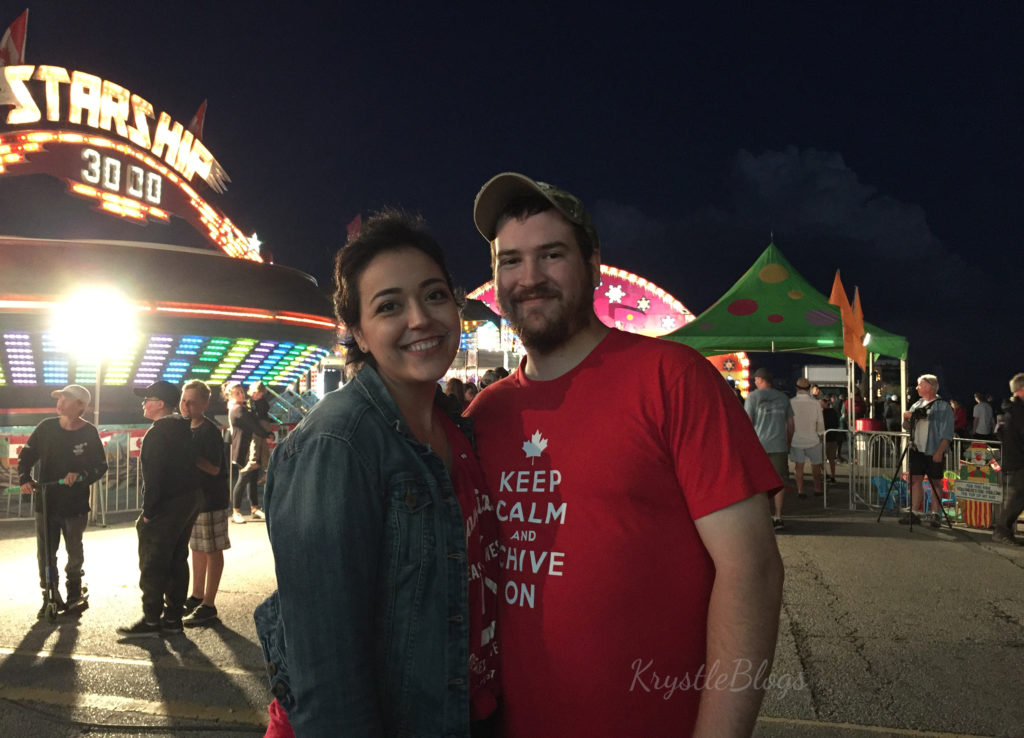 Thankfully by the time we were finished with supper, the skies had cleared and it surprisingly turned in to a beautiful evening. Once again, we met up with our friends and headed down to the waterfront to finally enjoy the carnival. We couldn't have asked for a better night! Music, sunset ferris wheel rides, games and fireworks to cap off the evening, were the perfect way to celebrate our wonderful country and enjoy the first long weekend of the summer!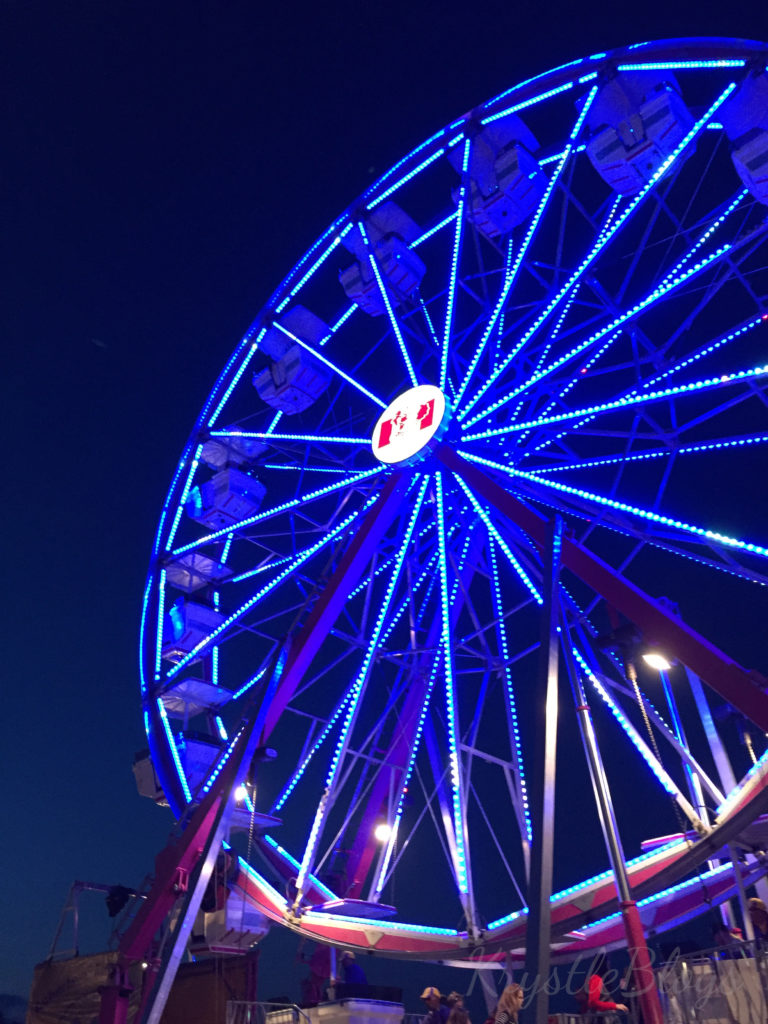 And because we were having so much fun, I vlogged the entire day for you all! Enjoy!

Posted in
Life

Tagged

Canada, Canada Day, Canada150, celebrate, long weekend, summer, vlog

Leave a comment
My second daily ritual after my morning coffee is to walk our two Golden Retrievers around the neighbourhood. Our dogs have a ton of energy to wear off and it gets me moving too! During the Winter, walking the dogs becomes more of a chore but in the warmer months it's a great way to soak up that fresh air and sunshine!
I was really excited that our new home is also so close to the water and couldn't wait to familiarize myself with my new surroundings.
Since we looked at the house in early Spring, we had only come to see the very edge of these trails. Then, still coated in snow, it was difficult to imagine everything in full bloom. What a fantastic surprise when the dogs and I came out of the clearing and ended up here!
As we walked the trail for the first time, I spotted this monarch butterfly caterpillar hiding under some milkweed.
And loved the simplicity of this small vine wrapped so tightly around this branch.
Genevieve and Murray were ecstatic when we ended our walk with a swim off the pebbly beach.
Walking the dogs has now become one of my favourite daily tasks.

Posted in
Uncategorized

Tagged

dog, dogs, Genevieve, Genevieve and Murray, golden retriever, golden retrievers, hike, Murray, neighbourhood, summer, walk

Leave a comment
Wow! What a busy year it's been for us!
Out of the blue one snowy, February morning, my husband said to me 'I think we should move'. I instantly began crying because I'm an emotional nut like that. So many thoughts went rushing through my head – How can I leave behind our first home? The home we bought together to start our life together. The neighbourhood I grew up in. The home we had spent the past seven years fixing up and making just right for us.
In my heart though I knew it was the right thing to do. Our neighbourhood had been slowly going downhill and we didn't want to be caught up with it. It wasn't a place I would want to raise a family and we had outgrown it. I was constantly frustrated with the lack of office space I had and our small backyard wasn't suitable for our two large Golden Retrievers either. If we had children one day there was no place to put them! So we decided to work really hard fixing up a few rooms and renovating a few others so we could get ourselves on the market by the beginning of April.
All of our hard work paid off and we had an offer five days after listing. A week later and it was official – we were moving!
We had an extremely quick closing date and suddenly the panic set in that we had just over 6 weeks before we would be homeless! We spent days with our realtor visiting every home on the market that fit our criteria. And then we found The One. That dream home we had always envisioned for ourselves. It was absolutely perfect. There was just one problem – they couldn't leave until July 4th and we had to be out of our home on June 2nd.
Thankfully we have some incredible family and friends and we were able to sort out places for ourselves and the fur family to stay while we were in between homes. The paperwork was signed and it was official – the house was ours!
Moving out was a nightmare! We had lots of hands but despite our reservation, U-Haul didn't have a truck for us. Instead we were given a trailer. A trailer. We had to move our entire home in to a storage unit 45 minutes away with a trailer. Thank goodness for those great family members, friends and a sun filled weekend!
The days leading up to the move were incredibly emotional for me. Every room had a thousand memories both happy and sad, but mostly happy. Even harder to cope with was the fact that I was going to be out of a home for over a month, most of our beloved pets weren't going to be with me during that time and I would only see my husband on weekends.
On move out day, Hubby packed up the car while I did one more walk through our first home. I sobbed the entire way to my Dad's.
Then something happened. The next morning I woke up at my parents with a sense of calm enveloping me. The chaos was over and the thing I had been dreading for months – leaving our first home – was also behind me. Our fur family was in the care of some amazing people and best of all, our dream home was only a little over a month ahead of us.
And that month went quickly! I had a great time staying with my parents and spending time with my amazing seven year old brother. The dogs enjoyed their daily walks down the country trails and I looked forward to the weekends when Hubby would come up to visit.
And then finally July 4th was here! I'm not sure if it was the month in between where I had time to properly leave our first house behind and get excited for the new one but walking through that front door for the first time just felt right.
I was home.

Posted in
Uncategorized

Tagged

home, house, move, moving, summer

Leave a comment
What an awesome birthday weekend I had! Being at the end of August, my birthday occasionally falls on the Labour Day long weekend so I decided to head up to the cottage to celebrate! My family joined me as well as my sister's friend and my best friend!
We had a beautiful weekend and took full advantage of the lake! My best friend and I even went out tubing a few times! This was probably due to the amount of margaritas we consumed!
My husband had to work all weekend so he had stayed home….but just before dinner time I turned around and he was there! Hubby had driven 2 1/2 hours just to see me on my birthday, bring me flowers, stay for dinner, go out for an evening boat ride and then drove the 2 1/2 hours home for work the next day! What an amazing guy!
This is the gorgeous bouquet my Husband brought me. I was so shocked when he showed up! There were some definite tears!
The sky was absolutely incredible and I was able to give my sister's friend a tutorial on night photography. I'm not a professional but I have been playing around with star photography a bit and was really happy with how this one turned out! Love the clarity of the milky way and the fact that this is what we see every night at the cottage!
The next morning my Bestie and I got up bright and early to kayak around the lake. The lake we are on is so serene, it doesn't get a lot of traffic and is fairly small so our kayaks cut the water like glass. We loved touring around this one rocky area where the trees intertwined with the rocks and their roots continued in to the water.
In the early evening we enjoyed taking a round trip in my Uncle's newest toy – a pontoon! The sunsets on the lake were incredible!
And just because we could, one day we took the pontoon out to the middle of the lake and just jumped in! We had a blast swimming and even the dogs jumped in for some fun!
When it got dark, we started the bonfire and spent the rest of the night gathered around it. The perfect way to end the summer!

Posted in
Uncategorized

Tagged

birthday, cottage, summer

Leave a comment
Taking a break at the park during one of our walks.
I am in a wonderful mood today! This morning I got on the scale and am officially down 15lbs from June 7th. That was the first day of my new life!
Murray and Me <3
Since becoming self-employed I feel like a weight has been lifted off of my shoulders. Stress? Gone. Anger? Gone. Feeling unappreciated? Gone. And along with all of those unhappy emotions, I've lost that need to try and eat those feelings away. I don't crave wine and chips and candy anymore (although once in a while I still need my fix) and have started listening to when my body says it's hungry instead of eating because my mind is telling me to.
They love their morning walks and I enjoy them too!
It also makes it easier not having temptation staring me right in the face. I'm not forced to stare at a vending machine several times a day or walk by a grocery store on my way to and from work. When going grocery shopping, I make my list in advance and stick to it.
Genevieve & Me <3
I find it difficult to do intense workouts because of injuries I sustained a few years ago in a car accident so instead I have taken up walking the dogs around the neighbourhood. I wake up in the morning, feed the dogs, start my coffee and do a 40 minute walk with them. I think it's safe to say all three of us enjoy the fresh air and the exercise!

Posted in
Uncategorized

Tagged

dog, dogs, Genevieve, Genevieve and Murray, golden retriever, golden retrievers, Murray, summer

Leave a comment
Hubby and I vacationed most of the week, it was wonderful!
If you've been reading the blog you'll know we started our vaycay at a family cottage in Bancroft, Ontario. We love going up there because the dogs are just as happy as we are. Unfortunately we didn't get the best weather so Hubby and I spent part of it making up new rules to Monopoly. When the sun was shining or it just wasn't raining we were outdoors with the pups.
Genevieve & Murray retrieving the ball.
Enjoying a canoe ride while the rain held off.
Weather cleared up for a beautiful sunset.
And stayed beautiful in to the next day.
Sunning on the dock with Genevieve.
The dogs spent all of their time in the water. We haven't gotten much rain this summer so they had to go out really far to get where they couldn't touch. Murray spent hours doing circles in the water – this tiny speck moving in the distance. Every once in a while you would see him stop and his head pop up, just to make sure we were still around. Genevieve likes to retrieve. Even if she's completely exhausted she can't resist swimming after her toy and bringing it back to us. Eventually to give her a break we had to leash her and bring her on the dock with us. With a ball in her mouth, she settled down quickly.
After some R&R at the cottage, we spent some time at my Dad's boat with him, my Stepmom and little Brother. We had gorgeous weather and picked an island close to the marina to anchor off of with some friends to enjoy the day. My little Brother and Hubby spent their time pretending they were pirates (my brother is 4). I spent my time floating around on an inner tube, sipping my wine and soaking up the sun. My Stepmom came up late, she slept in and we wanted to get out on the water so Dad was trying to figure out a plan to go back and get her later on. Instead she found someone boating our way and hitched a ride with them to us!
Brother and Hubby.
Hubby walks the 'plank' and does a cannonball!
We've been back for a few days now. Although our vacation was relaxing being a Beach Bum just wears me out! I've been lazing around here when there's tons to do – but I have a great tan now! I'm nervous to start work again tomorrow. I've been off for almost 4 months after pain problems following a car accident we were in last Christmas. Keeping fingers crossed it all goes well and no one yells at me!

Posted in
Uncategorized

Tagged

cottage, dog, Genevieve and Murray, golden retriever, golden retrievers, summer, vacation

Leave a comment